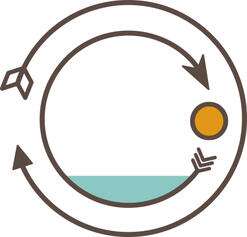 Reimagining the future of work
where anything is possible by co-creating with like-souled and exceptional minds, a collaborative co-working space, using design thinking, lean and agile methodologies
Feel-good co-working & co-living
evoking authentic sharing. Venture-building ethical and sustainable projects with core team. Unleashing learnings to members. Based on equity in ownership and decentralisation of decision-making while maintaining community.
I propose a new impact accelerator model also providing solution for the future of work.
We'll create a global network of audacious co-living/co-working spaces to facilitate collaboration, inspire consciousness, build teams, collect ideas, practice experiential learning, validate teams and ideas and create a syndicate of B-corps to maximize impact on a holistic spectrum. I call it TedaciousHub.Southeast Asia is the ideal place for first hubs, because the intersection of open-minded, community-seeking, life-transitioning bright minds are already there.Co-working members will gain access to exceptional human capital, mindful environment and inspiring events. Possibility to advance into core-team and get paid to reshape the world.The core-team of 12 impact-venture builders will lead open-prototyping in troikas at each TedaciousHub. They'll receive basic income and shared equity from all projects based on value provided and ownership while being decentralised decision-making bodies.The 12 will vlog their daily actions to spread learnings. Sharing tools, resources and experiences. Creating an unprecedented open resource-guide with exact tools, techniques and experiences of prototyping ideas in roadmap format.Positive community will be maintained through regular eventspirations and collaboration activation.We won't just be open source. We'll also be accountable through blockchain.
Could a value-reciprocity token-system be created?
1st step:
- increasing accountability through sprint-commitment
- empowerment through token exchanges when value is received or perceived2nd step:
- collaboration through spin-off projects
- value-reciprocity token-system tested in other organizations3rd step:
- reciprocity measured in real-time by AI to boost meaningful collaboration
- token-system introduced to the publicCoworking & coliving offices around the world are sustainable. Whose core purpose is impact not money has a massive chance to become the go-to place for individuals who feel that there is more to life.Some will become purpose-driven entrepreneurs creating the best imaginable place for all. While others become intrapreneurs or who knows, even the presidency is up for grabs now-a-days.
The number of freelancers and location independent workers are rapidly growing
without much operational knowledge. TedaciousHubs will provide fluid spaces, experienced support and flexible teaming.
The core uniqueness of this proposal is that it will not only have impact on the primary target group, but will amplify impact through the creation of projects focusing on real-world problems.The expected outcome is strengthened, sustainable capacity of young talents who build on today's high-priority initiatives to drive, shape and inspire tomorrow's social and economic system and building a bridge between civic and startup thinking to meet immediate and future demand of local and global potential leaders.Expected measurable outputs:Year 1- 3 TedaciousHub launches
- 1000 members and Tedacious advocates
- blockchain based accountability tested
- value-reciprocity token-system testedYear 4- 24 TedaciousHubs
- 10,000 members and Tedacious advocates
- 4 globally valuable B corp
- 4 regionally valuable B corp
- 16 locally valuable, innovative civil projectsOutcome & impact80% of all TedaciousHub members progresses into an active alum
wide collaboration and strong skill-set improvement amongst members
passion and aptitude ameliorated
relevant, high-quality makeshift education material both off and online
strategic partnerships developed and promoted to improve connectedness
sustainability, cost-effectiveness, transparency and accountability
53 million Americans were freelancers in 2016. By 2021 43% of the U.S. workforce will be freelancers
Collaboration is a movement already happening organically. Yet to truly erupt. We can help it evolve to the next level by systematizing the ways it happens and creating ideal places where it can happen.
3 years ago I left my corporate life
and for these past years I have traveled around Southeast Asia visiting coworking offices and talking to hundreds of individuals all frustrated with current systems having a desire to contribute to change. But lacking support and community, as current spaces are relatively individualistic in their culture.I co-founded a Social Impact Training Program in 3 locations, with over 300 graduates in Hungary. All without any external funding. Resulting in 2 new coworking offices.So I ended up helping team CoChange to build & re:build their model.
In case of successful implementation, TedaciousHub's impact will be unmatched to other single-focused projects
As we share the common goal of advancing paradigm shifting research and gaining new insights and empirical solutions for a conscious and human-centered way of how we work and how we live. Leading to a disruption in how companies and markets can operate sustainably.- TedaciousHub is prototyping the future of work which is a market where most of us spend over 50% of our time - the model can be adopted
- directly aims members wellbeing (key to our realizing-potential in an ever-changing environment) & indirectly impacting all those who know them
- experimenting with human-centered technologies through rapid experiential co-learning cycles to boost knowledge, growth mindset and consciousness
- impact venture-building resulting in multiplication effectAll experiences and learnings will be open sourced and packaged in a mind-blowing format.We'll catalyze global impact success stories for many years by rethinking the co-working/co-living/accelerator model. We'll be deliberately disrupting old models to engage a broader set of stakeholders at a deeper level than has ever been achieved before.
Want to help and see this project lift off?
Join the Future of Work where Anything is Possible!
Thank You
We don't succeed in a vacuum - even the best of us work in teams
Lets have a conversation and make a ruckus!
Text